The geographical location of Alsace vineyards benefit from Germanic and Latin influences. The origins of the Moltes family is tightly linked to the history of Alsatian viticulture. The historical archives confirm the presence of the family, since late 18th century, in the village of Pfaffenheim about ten kilometers South of Colmar.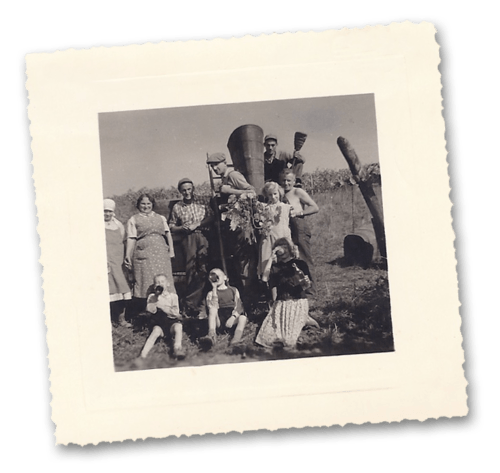 Domaine Moltes history
The Moltes winery was founded in 1930 by Antoine Moltes, our grandfather, in Pffaffenheim. In 1960 Roland took over the farm from his father. Our mother Josiane joined in 1970 to help her husband Roland to develop the family estate.
Since 1995, we the grandchildren: Stephane and Mickael have taken over the responsibility to grow the vineyard, run the cellar and perpetuate the estate.
Viticulture has always been a trade we considered tightly linked to respect for the environment. Therefore, the commitment of our winery to protecting the environment did translate into achieving our  ORGANIC FARMING certification for all our wines starting in 2015.
The history of the name "Alsace"
Only after the WW1 and the Phylloxera epidemic, did the Alsatian growers emphasize on quality control policies. In Alsace, unlike other French vineyards, is not the name of the land which gives its name to the wine, but the grape itself.
The 7 main Alsatian varieties are: Sylvaner, Pinot Blanc, Pinot Gris, Riesling, Gewurztraminer, Muscat d'Alsace and Pinot Noir.
These varieties offer a unique range from dry wines to luxuriant and full-bodied wines. In 1945, a new policy is implemented setting stricter rules to  dividing lines of wine-growing areas and winemaking. Finally, in 1962 the "AOC – Appelation d'Origine Controllee" is granted to the 7 Alsatian varietals, followed in 1975 by AOC "Alsace Grand Cru" and in 1976 by AOC "Crémant d'Alsace". This will guarantee the recognition and authenticity of the Alsace "terroir" and the expertise of the winemaker. Since 2011 the "AOC Alsace" may be supplemented by a local place name.
Alsace wines can also have particular mentions like "Vendanges Tardives" (late harvest) and "Selection de Grains Nobles". These references are granted to exceptional wines obtained from overripe grapes. The "Botrytis Cinerea" favors the concentration of flavors, sugar and acidity in those wines and brings out in them sweetness, power and unparalleled complexity.